It's official, fantasy football has taken over the country. In 2016, there were over 40 million people who played fantasy football (source: FSTA.org). And while that number is remarkable, it's not nearly as impressive as the amount of money spent on fantasy football each year. Studies indicate that roughly $4.6 billion was spent on fantasy football in 2016. You read that correctly, $4.6 BILLION.
This number has increased significantly since daily fantasy football has gone mainstream, with Fandual and Draftkings leading the way. Draftkings has awarded more $1,000,000 winners than any other fantasy draft website in the world.
Daily fantasy football is not the only reason why we're spending $4.6 billion. Millions of people will pay big bucks to get expert advice on their lineup and draft advice. FantasyPros.com is one of the top resources for getting expert advice, but to get their advice, you'll need to pay for a subscription. Other premium fantasy football advice websites include NumberFire and ESPN Insider, both of which claim to offer superior fantasy advice. When you consider that you could win $1,000,0000 in one day by creating the best fantasy lineup, a $20 monthly subscription seems like pocket change.
Another product that fantasy football leagues are enamored with include fantasy football draft boards. Whether you opt for a physical draft board that you hang on the wall, or you opt for a draft board that you can project onto a screen or TV, millions of dollars are spent every year on draft boards. After all, a fantasy draft party is something that leagues look forward to, so forking up $50 for a draft board is a worthwhile expense. 
If you already have a large format printer, consider purchasing one of our printable fantasy football draft boards for 2017.
How to Play Fantasy Football
If you haven't played fantasy football before, we'll walk you through the basics. These basics will help you stay competitive if you're considering a casual fantasy football league, but if you're thinking about playing DFS or a paid fantasy league, we'd suggest that you do some more research.
The Basics: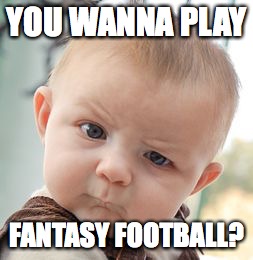 In a standard fantasy football league, you'll draft a single QB, 2 RB's, 2 WR's, 1 Flex, 1 TE, 1 K and 1 D. You'll also be given 8 bench spots to roster backups and / or other players you want to own.  Each week, you'll have to decide which player(s) you want to start, based on the matchup, and how many points they are expected to score. Your goal is to roster a team that scores more points than your opponent!
You will score points in a variety of different ways, but the most common ways include passing yards, passing TD's, rushing yards, rushing TD's, receiving yards, receiving TD's, field goals, sacks, and points allowed. Knowing this, you may want to start players that you think will put up the most points each week.
The Draft:
When you draft players, the typical strategy is to start with RB's or WR's in the first few rounds, and then start to consider a QB and / or TE in the mid rounds. You'll never want to draft a Defense until the 8th round or later, and a Kicker should never be selected until the last round.
The reason you want to focus on RB's and WR's in the early rounds is because they offer the most value. Your QB may score the most points each week, but the WR and RB position has the greatest discrepancy between points scored. There are plenty of articles out there that discuss draft strategy, including the Zero RB draft strategy, RB-RB-RB draft strategy, multi QB draft strategy, among others. To keep it simple, just got with the best available RB / WR in the first few rounds, and look at average ADP at FantasyPros.com if you need help.
The Waiver Wire:
Drafting your team is only half the battle. You'll need to pay close attention to major NFL news each week to keep track of injuries, position battles, and trades. If there is an injury to a top player,  the backup will likely be a hot commodity in fantasy football. Knowing what your waiver wire position is, and how to use it is crucial to making sure you are in the best position to win your league.
Good Luck
As we've said, there is no way that we can explain all of the strategies that you could use while playing fantasy football. We hope this article gives you an idea of how to play, while pointing you in the right direction to become the expert in each area. Before you decide to add to the $4.6 billion industry, we recommend that you play in a few free leagues to get an idea of how it works. Both ESPN and Yahoo offer free fantasy football leagues, so sign up today and check it out!